Hiro Mashima: The Creator Behind Fairy Tail and Rave Master
Hiro Mashima is a well-known manga artist, who has gained worldwide recognition for his popular manga series, Fairy Tail and Rave Master. Both series have captivated audiences with their imaginative worlds, captivating characters, and thrilling plotlines. In this article, we will delve into the life and works of Hiro Mashima and explore why he has become one of the most beloved manga artists of all time.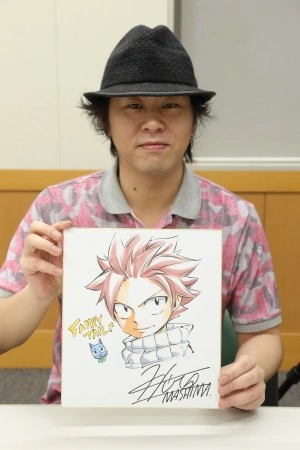 Hiro Mashima was born on May 3, 1977, in Nagano Prefecture, Japan. As a young boy, Mashima had a strong passion for drawing and aspired to become a manga artist. His grandfather, recognizing his talent, searched for discarded manga for him to read and trace pictures from.
Dragon Ball and Ultimate Muscle, two popular manga series, had a significant impact on Mashima's career. He was particularly drawn to the exciting adventures and fierce battle scenes featured in the stories. Mashima was inspired to incorporate this style of fierceness into his own works.
After high school, Mashima enrolled in an art school specializing in manga, but he quickly became disappointed with the approach taken by the school. He felt that while it taught him the basics, it would not help him improve as a professional. So, he decided to leave the school and instead, teach himself. His determination and self-teaching allowed him to hone his craft and develop his own unique style.
With his exceptional talent and unwavering passion for manga, Mashima has become one of the most successful manga artists of our time. His works, including the highly acclaimed Fairy Tail and Rave Master, have captured the hearts of millions of readers worldwide.
Hiro Mashima's passion for manga began at a young age, and by 1998, he had already created a 60-page original work called Magician. With his newfound confidence in his craft, he presented his work to several editors for review. His hard work and dedication paid off when Magician won the amateur manga artists' competition, marking the beginning of his professional career.
Edens Zero (2018-Current)
Edens Zero is Mashima's latest manga series, which was first serialized in Weekly Shonen Magazine on June 26, 2018. The series takes place in a vast and diverse space-faring universe where robots and humans coexist, and follows the adventures of a young man named Shiki Granbell and his friends Rebecca and Happy as they travel the galaxy in search of the legendary "Eden's Zero."
Edens Zero has been well-received by fans and critics alike, with its unique world-building and imaginative character designs being praised. Mashima's signature humor, thrilling action scenes, and compelling storyline have also made it a standout in the shonen manga genre. The series continues to be serialized in Weekly Shonen Magazine and has been adapted into an anime series.
In addition to his manga works, Mashima has also been involved in various other projects. He has collaborated with fellow manga artists on various manga crossover events and has contributed to various manga anthologies. He has also released several art books featuring his illustrations and character designs from his various manga series. Overall, Mashima's creativity and passion for storytelling continue to captivate audiences and establish him as one of the leading manga artists of his time.
In 2001, Rave Master was adapted into an anime titled Groove Adventure Rave, further increasing its popularity and reaching a wider audience. The anime followed the same exciting story of Haru's journey to find the Rave Stones and defeat evil. While the series may not have reached the level of fame as Fairy Tail, it is still considered a solid entry in the shonen manga genre and is highly regarded by fans.
During the serialization of Rave Master, Mashima also created a spin-off series titled Plue's Dog Diaries, featuring the beloved character Plue, which was serialized in Kodansha's Comic BomBom. In 2003, he also released two volumes of one-shot titles, including Magician and Fairy Tale, which served as a prototype for his later work.
After Rave Master had come to a close, Mashima began serializing the title Monster Soul in Kodansha's Comic BomBom. It was during this time that he created the prototype for what would become his most popular and well-known work, Fairy Tail. The success of Rave Master laid the foundation for Mashima's future works, showcasing his talent as a storyteller and solidifying his place as a master of the manga genre.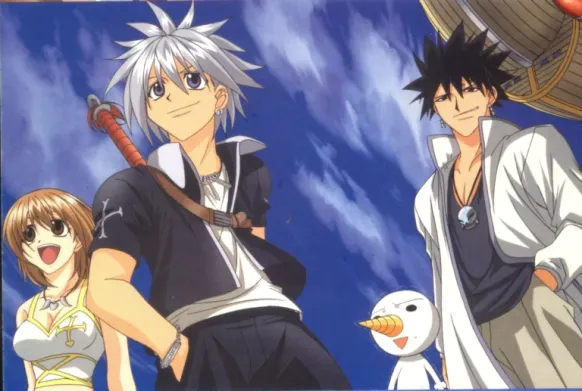 Monster Hunter Orage (2008-2009)
Monster Hunter Orage is a manga series based on the popular video game franchise Monster Hunter. The series was serialized in Kodansha's "Shōnen Rival" in April 2008 and was created by Hiro Mashima.
In an interview, Mashima was asked about his experience adapting to a pre-existing world in the Monster Hunter franchise. He stated that due to the world not being his original creation, he had to respect the limitations set by the authors and not "destroy" the established world. However, he also mentioned that there were many similarities between the "Monster World" and the worlds he often depicted, making it easier for him to adapt to the manga series.
Mashima's approach to adapting "Monster Hunter Orage" demonstrates his respect for the source material and the world that had already been established. He carefully balanced his own unique style with the established elements of the "Monster Hunter" franchise, creating a manga that both honors the original work and adds his own touch.
Overall, "Monster Hunter Orage" is a testament to Mashima's versatility as a manga artist and his ability to work within the constraints of a pre-existing world while still putting his own spin on it.
Hiro Mashima's Fairy Tail is a tour de force in the world of manga, quickly becoming one of the most popular series in Japan after its serialization in Weekly Shonen Magazine began on August 2, 2006. The series is set in a magical world and follows the journey of Natsu Dragneel, a young mage who is a member of the Fairy Tail guild. The guild is comprised of an eclectic cast of characters, each with their own unique abilities and personalities, who embark on thrilling missions and quests together.
Fairy Tail's imaginative world-building, memorable characters, and compelling plotlines have captured the hearts of fans around the world, leading to its translation into several languages and its adaptation into an anime series. Meanwhile, Mashima continued to produce other works, including the spin-off series Plue's Dog Diaries and Monster Soul, and the manga series Monster Hunter Orage and Nishikaze to Taiyou. In addition, he collaborated with Miu Kawasaki to write two light novels, Fairy Tail: The Color Residing Within The Heart and Fairy Tail 2: After The Grand Magic Games, Each Individual Day.
Mashima's success with Fairy Tail also led to several crossover projects, including a manga collaboration between Fairy Tail and Rave, which was adapted into an original video animation in 2013. He also participated in a crossover between Fairy Tail and Nakaba Suzuki's The Seven Deadly Sins. Additionally, two Fairy Tail spin-offs, Fairy Tail Zerø and Tale of Fairy Tail: Ice Trail, were created under Mashima's supervision, while Fairy Tail Blue Mistral and Fairy Girls started in 2014, although Mashima was not personally involved in them. Overall, Mashima's impact on the world of manga and anime continues to be felt, and his works continue to captivate audiences around the world.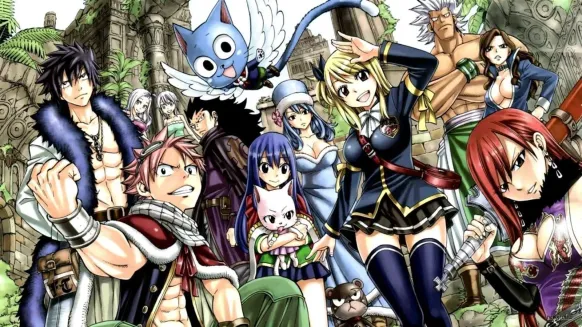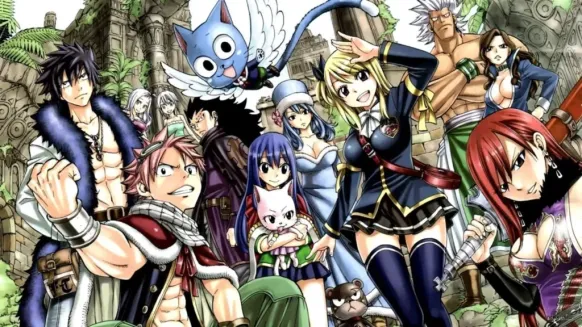 Hiro Mashima's impressive work pace and manga production skills have gained recognition within the manga community.
The standard workload for a Weekly Shōnen Magazine manga artist, like Mashima, typically involves 20 pages of completed draft, 20 pages of rough drafts, and occasionally a colored page.
However, Mashima has demonstrated an even greater capacity for productivity, as evidenced by his work on the monthly manga series "Monster Soul." During this time, he was able to produce 43 pages of completed drafts, 69 pages of rough drafts, and 4 full-colored pages in just one week. This remarkable feat is only further highlighted by his personal record of creating 65 completed pages, including three colored pages, within a single week.
Hiro Mashima is a well-respected manga artist in the industry, and his talent has been recognized with several awards over the years. Some of the notable awards he has received include:
Kodansha Manga Award: Rave Master won the award for Best Shonen Manga in 2001.

Tezuka Osamu Cultural Prize: Fairy Tail won the award for Best Shonen Manga in 2010.

Seiun Award: Rave Master won the award for Best Comic in 2003.

Shogakukan Manga Award: Fairy Tail won the award for Best Shonen Manga in 2011.
Mashima's success and recognition in the industry are a testament to his talent and hard work, and his work continues to be well-loved by fans all over the world. These awards further highlight his status as one of the most successful and talented manga artists of our time.
Hiro Mashima's Studio: Past and Present
At the peak of his career, Mashima had six assistants working under him in a spacious 8,000 square foot studio with seven desks, a sofa, and even a TV for video games. In 2008, he worked with assistant Miki Yoshikawa to create the crossover one-shot story "Fairy Megane," which saw characters from Yoshikawa's "Yankee-kun to Megane-chan" series find part-time jobs at the Fairy Tail guild.
Many of Mashima's former assistants have gone on to achieve success in their own right, with works such as "Yankee-kun to Megane-chan" by Miki Yoshikawa, "Spray King" by Shin Mikuni, and "Tsukushi Biyori" by Yui Ueda.
As of now, Mashima has a dedicated team of assistants including Bobby Osawa as the chief assistant, Sho Nakamura as the vice-chief assistant, and other members such as Kina Kobayashi, Kain, and Asami. These talented individuals work alongside Mashima to bring his imaginative ideas to life and bring new and exciting manga to audiences around the world.
Hiro Mashima, the acclaimed manga artist behind the popular series Fairy Tail and Rave Master, has an estimated net worth of $20 million as of 2020. This wealth has been accumulated through his successful career as a manga artist and creator of several successful manga series.
Mashima's primary source of income comes from his works as a manga artist. His series Fairy Tail and Rave Master have been widely popular, not only in Japan but also around the world, earning him significant royalties and profits. Additionally, the anime adaptations of his works have also contributed to his overall net worth.
Despite his financial success, Mashima is known to lead a modest lifestyle and focus on his passion for creating manga. His love for storytelling and artistic abilities have made him a household name among manga fans and has earned him a significant amount of wealth over the years.
Hiro Mashima is a talented and accomplished manga artist and creator, with a career spanning over two decades. His work on Fairy Tail and Rave Master has earned him critical acclaim and a dedicated fanbase, and he continues to be a major force in the world of manga and anime. Despite his private nature, he is one of the most successful and respected figures in the industry, and his net worth is in the millions. He is a true inspiration for aspiring manga artists.